How to Become A C10 Electrical Licensed Contractor
What is an Electrical Contractor?
According to the California Code of Regulations, Title 16, Division 8, Article 3. Classifications, a C10 Electrical Licensed Contractor "places, installs, erects or connects any electrical wires, fixtures, appliances, apparatus, raceways, conduits, solar photovoltaic cells or any part thereof, which generate, transmit, transform or utilize electrical energy in any form or for any purpose."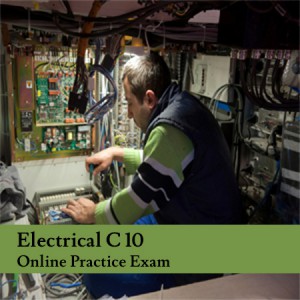 Why do you need a C10 Electrical Contractor License in California?
If you want to work as an electrical contractor in California on any project that is valued at $500 or more, you will be required to obtain a C-10 electrical contractor license from the California Contractors State License Board (CSLB). If you contract without a license, you can be held legally answerable for it and might even end up with a potential sentence of six months in jail.
How Can You Get C10 Electrical Contractor License in California?
To get a C10 Electrical Contractor License in California, there are certain steps you need to follow to gather all the required documents and get your C-10 California Electrical Exam prep in line. Have a look:
You must have at least four years of on-the job experience at a journeyman level or higher. In addition, you must also pass two tests – a law and business test and an electrical contractor test. Only on successful completion of these two examinations can you be issued a license.
You must complete a California electrical apprenticeship program. These programs combine classroom instruction with hands-on training and take at least four years to complete. In addition, you must also take and pass a certification exam to get your Certificate of Completion of Apprenticeship. You will need to include this Certificate in your C10 license application.
You will need to get employed as an electrical journeyman and complete one year of work in this position. Till this step, if you have completed an apprenticeship program, you will be given three years of credit and you will not have to put in the four-year general requirement.
Get an online copy of the Original Contractor's License packet from the official CSLB website. Go through this pack and make yourself familiar with the basics of the licensing procedure.
Submit a Certificate of Work Experience from any employer under whom you have previously worked as an electrical journeyman. For applicants who have completed the apprenticeship program, you will only need to provide one year of such experience.
Complete the application and give it in for final processing and submission. Make sure you have provided all the supplementary documents and relevant fees and clearly mentioned the indicated address. When and if your application gets approved, you will receive a Notice to Appear for Examination and a request for your fingerprints. Guidelines will be provided on how to arrange your fingers to send an electronic copy of your prints to CSLB from your local Live Scan facility. The receipt you get from here will have to be submitted to the CSLB. Make sure you submit this receipt no later than 90 days after receiving your fingerprints request.
Once you have followed the above, you will be allowed to sit for the two required exams at the date and time you are provided with in your exam notice. In case of a failure to appear for the exam at the given date and time, you may be allowed to reschedule for a certain fee. Your test results will be available to you before you leave the testing site. Once you have completed the exam, you will be given instructions to submit a surety bond along with a proof of workers' compensation insurance and a licensing fee.
Get a surety bond in the amount of $15,000 and submit the original bond to the CSLB within 90 days of the bond's effective date. After this, get workers' compensation insurance from any licensed insurance agency in California. Submit a copy of this to the CSLB.
After you have completed the above and submitted your licensing fee to the CSLB, you will be issued a license. In addition, you will also get a wall certificate and a permanent wallet-size pocket license. You will be required to display the wall certificate in your office at all times.