How to Become a "Licensed Contractor" in California
Construction is a science which requires precision. Lack of precision can lead to faulty construction resulting in loss of life and property. This is why the construction industry in California is regulated by the state of which licensing is just one part.
Safeguarding California residents' lives and their right to enjoy property, the state requires specific contractors to be licensed. Licensing confirm the individual's knowledge in the area and authenticates that their work is of a certain standard. This ensures safe and quality construction work.
What do I need to become a Contractor
From the outset, all prospective contractors in California must know that they may be required to get a construction license if they wish to pursue this trade. California makes it mandatory for all contractors to be licensed especially if they intend to bid for a project which is valued at $500 or more. This includes both the project's material and labor costs. Therefore, one of the biggest incentives in getting licensed in California is the ability to bid for high value, big construction projects. Unlicensed contractors can only bid for small construction projects.
The state of California repeatedly reminds its residents to ONLY hire state-licensed contractors. Smart consumers will ask to see a contractor's "pocket license". It is therefore in the contractor's own interest to get licensed both to avoid state penalties, including jail term and more importantly, build customer confidence, leading to a long-term business relationship.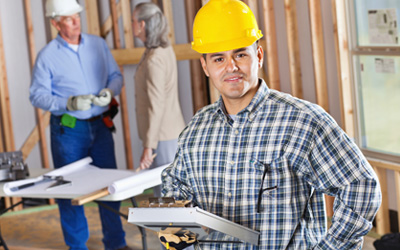 Prospective contractors must contact the Contractors State License Board (CSLB) for licensing. While in-depth information is available on CSLB's website, the following may help in getting started:
Pass a criminal background check
Post a license bond
Pass exams (business and trade and license law)
Verify four years of journey-level experience in the trade
Getting licensed may be a time consuming process and therefore it is advised that all prospective contractors start early.
Penalties for Unlicensed Contractors in California
The CSLB was established to protect consumers. The Board ensures high construction standards through regulation and penalizes those who are found to be in violation of state construction laws.
Unlicensed contractors through faulty construction can put peoples' lives in danger. In addition, they give a bad name to the whole industry and avoid taxation through engaging in unlawful trade activities. To curb this practice, the CSLB's team called Statewide Investigative Fraud Team (SWIFT) conducts undercover operations to unearth illegal construction rackets.
The first offence is classified as a misdemeanor, which is punishable with up to 6 months in jail and/or a $5,000 fine. The convicted may be sentenced with an additional administrative fine of $200 to $15,000. After serving the sentence, if the contractor continues with their old ways, they could be slapped with a fine of $5,000 or 20% of the contract price. Furthermore, second offence automatically attracts a jail term of 90-days.
It must be remembered that not all violations of California's construction laws result in a misdemeanor; some are classified as felony as well. Those who misrepresent themselves as licensed contractors or use another person's license for the purpose can be convicted of a felony. Felons serve jail time in state prison.
Is California Contractor's License worth the Effort?
Yes! In addition to the reasons given above, there is one more reason which should stop an unlicensed contractor – unlicensed contractors can be "ripped off". Unlicensed contractors cannot legally sue for non-payment. Imagine a shady customer finding out their contractor's licensing status and refusing to pay once the project is completed?