How to Get a HVAC Contractors License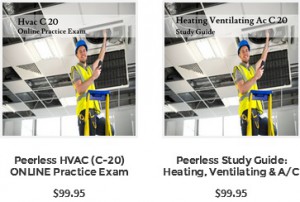 How to Get HVAC Contractors License: A heating, ventilation and air conditioning (HVAC) license is required by individuals who install, repair or maintain heating and cooling systems in residential or commercial constructions. This is especially true of projects that exceed $500. It will also be a requirement for people who sell service contracts to new and existing clients.
Education Requirements for Obtaining your HVAC License (C-20)
There are several factors you will need to ensure to get the HVAC contractors license Proper educational requirements will have to be fulfilled. A prospective HVAC technician must successfully finish high school or receive a GED. During this time, they should ideally take classes in industrial arts, math, electronics, physics and mechanical drawing. After completing school, the candidate may join an accredited HVAC training program. These training programs offer a curriculum based on studying the principles of HVAC installation and repair along with subjects such as blueprint reading, equipment design and temperature control. These programs may take six months to two years to complete.
Apprenticeship
The apprenticeship program may last anywhere from 3-5 years. Formal programs might allow candidates to combine their theoretical and practical learning practices. During an apprenticeship program, the prospective HVAC technician would shadow a licensed HVAC technician and simultaneously receive classroom training as well. These programs are offered by professional unions.
License Examination
Once you are finished with your apprenticeship program, the next step would be taking the actual HVAC License Exam. These exams test a prospective HVAC technician's ability to exhibit a satisfactory knowledge of the various aspects of HVAC installation and repair. In addition to that, some exams might also test the applicant's knowledge of electrical codes. Bear in mind that HVAC technicians who intend to work with refrigerants are also required to acquire an additional certification. For this, they must pass a second written examination that focuses on the relevant subject matter Hvac Study Guide can be helpful for such exams.
The following pointers must be kept in mind before applying for your exams:
The eligibility requirements will vary according to the classification and the state you are giving the exam in
You will be required to pay an application fee
You will be required to sit for two exams: business and law and trade
Before you sit for the exams, the board must approve your application
You will need a pre-approval from the state to sit for the exam
You will be required to have at least 4 years of experience to qualify for the exam – experience at the journeyman level, foreman or supervisor level, contractor level or as an owner/builder will be taken into consideration
All experience must be verifiable
All applicants must have a working capital of at least $2,500
All applicants must file a bond with the Registrar in the amount of $10,000
The exam has nearly 100 questions and a maximum time of around 2-2.5 hours
You will need at least 72% marks on the exam to pass it
(Note: Some of these requirements are specific to the State of California – for your state specific requirements, please check the relevant websites.)
What Topics to Prepare For the Exam?
There are numerous study guides available online and otherwise to help you prepare for the exams. These would include text book materials on the areas you need to cover, along with some practice tests. Whether or not you are purchasing a study guide, you should ideally have a good grasp on the following topics:
HVAC System Evacuation & Design
Duct System Design
Installation
Duct System Fabrication
Air Distribution and Duct Systems
Service, Maintenance and Repair
System Checks
Safety
Personal Protective Equipment
Documentation of Hazardous Materials
System Installation and Start Up
Electrical, Plumbing & Refrigeration Components
Air Filtration Installation
Duct Repair and Sealing
Installation and Replacement of Thermostats
New Installation and Routine Maintenance of AC & Heating Systems
Heat Pump Installation
This is a general overview of the subject areas you might be questioned on. Be sure to check the detailed topics covered, as guided by the official State Boards.
Save